35th A.U.C (Reserve Officer Cadets)
SMA COURSE
Aosta, April - August 1964

- The Generator -

As part of the Pro-Uganda initiative carried out by the 35th Reserve Officer Cadets Course, in November 2005 an urgent fund raising appeal was launched from this Web page for the purchase of a GENERATOR - whose initial cost estimate was
€ 9,000 - that would allow continuous power supply to the Kitanga Hospital.
The immediate response from donors went far beyond any optimistic expectation. In fact, apart from the donations of the Cadets, generous donations from three sponsors alone surpassed by far the real cost of the generator, which had in the meantime decreased to € 7,780.
We wholeheartedly thank VIBRAM S.p.A., InPuntaDiVibram (IPDV), and the S.GEORGE CONSTANTINIAN ORDER (whose contribution has been included in those from the 35th, although it actually came from a cadet of the 34th) for their generous and decisive donations that have allowed the funds from the 35th ROCC to be totally devoted to the project of the 5 km water pipeline which will reach the built-up area from the mountain spring. This new project will presumably cost
€ 18,500. Guandalini's estimate for his own fund raising campaign through different channels is of about € 10,000, so our objective as Cadets of the 35th was to raise some € 8,000 more.
In less than 20 days this target was reached and even surpassed as you can see from the statement of accounts below.
Those who still believe in stories (and not a few of them can be found among the Alpine Troops) can join our project and make their donations in favor of FONDAZIONE RUGGERO HILBE.
Click here to learn how
We wonder how many ROCC people will join our initiative. And, will they do it loosely or by the courses? Who knows what this invitation will bring? Certainly we will update you periodically about this fund raising campaign and donors will remain anonymous if they wish so.

Update as of June 7, 2006




Course N°

N° of donations

Total amount €

Vibram S.p.A .

1

3.000

I.P.D.V.

1

1.000

SMAlp IPDV Camp

1

342

I.P.D.V. Forum

32nd Course

1

150

39th Course

1

150

48th Course

3

750

117th Course

1

30

125th Course

12

1.285

163rd Course

1

50

Other Courses

2

150

35th Course

25

15.535

Total

49

€ 22.442

- Cost of Generator

- € 7.780

- Cost of water pipeline

- € 8.500

Amount available for further projects

                                  

€ 6.162
Project's documents:
Fattura Generatore Zordan
Bonifico Pagamento Generatore
Bonifici verso l'Uganda
Progetto Conduttura Acqua
Versamento Premio 'Alpini Sempre'

The immense gratefulness of the children of Uganda goes out to all participants.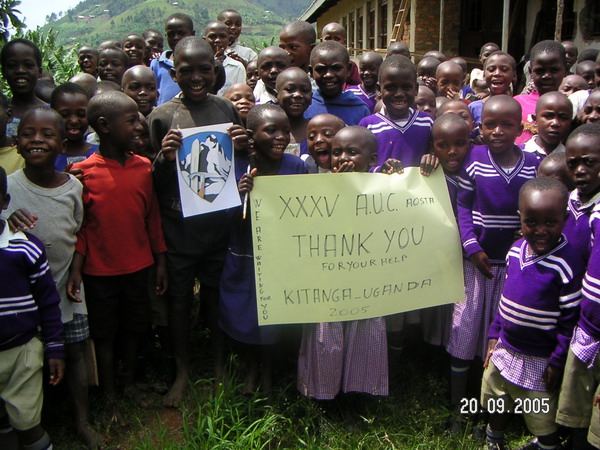 Introduction
Kitanga Hospital
--> The generator and the water pipeline
Future Targets
How to make your payment